Commissions and prices breakdown.
Hand and Foot Castings

Unmounted Free Standing Castings

Age

1 Casting per person

2 Castings

/person

3 Castings

/ Person

4 Castings

/Person

New Born

to 3 Months

$75

$125

$180

$250

4 Months to 1 Year

$80

$135
$210
$280
13 Months to 4 Years
$90
$150
$225
$300

5 - Adult open hand with flat back

$100

$175

$255

$340

Statues

(Vertical Upright)

Starting prices

Family hands statues

One adult and one baby $275

Two Adults + one baby $350

Two Adults + One Child $375

Two Adults +Two Children $400-$450

Two Children depending on age and size

starts at $250

Two adults

Generational or couples statues $325

3 person Statue 375

4 Person Statue $475

5 Person Statue $550

One adult hand full around statue $150
Fridge Magnets and Ornaments Copied from Castings

Foot Fridge magnets

made of Stone/Cement.

Prices are add ons to regular mounted castings

Starting at $50

3 or more then $45each

5 or more $40

Ornaments with ribbon to hang them on the wall or Christmas tree

Start at $50 Each

White castings

All copes can be done in any special finish extra

Hand or Foot fridge Magnets

made of unbreakable resin.

Prices are add ons to

regular mounted castings

Hand or Foot fridge Magnets

made of unbreakable resin.

Starting prices for newborn

1 resin fridge magnet or ornament $100

3 or more $65 each

5 or more $55 each

White pearled resin

or special pricing for metalic or cold cast resin(metal with-in resin) or foundry bronze.

Makes a Great Gift for any occasion!

A popular gift idea for grandparents.
Free Standing Baby
hands and Feet mounted on granite or other bases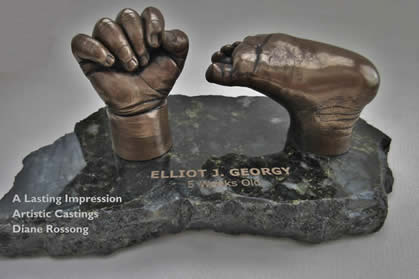 Starting at $149.95 White shimmer or white pearl.
Picture shows 2 Cold cast Bronze castings mounted on granite and name etched into the granite
this package starts at $450
Antiqued Silver Finish!

Linked hand and arm family castings

or any horizontal positioning.

3 Person $425

4 Person $525

5 Person $625

6 person $725

7 Person call for pricing.

Appointment bookings can be made up to

2 Months in advance. Please allow at least 2 weeks in advance for booking.

Includes white Satin finish and embedded hanger to hang on the wall

These castings can take many hours of finishing to make perfect.

It's all about the time and expirence involved!

With 15 years Experience!

Minimum age for this type of casting is 4 years old.

Date engraved on the back!

Antique Bronze Finish

The bottom of the casting.
very special tradition with your family and friends!
Helping you share your precious castings with your family!
Click here for more about our Finishes.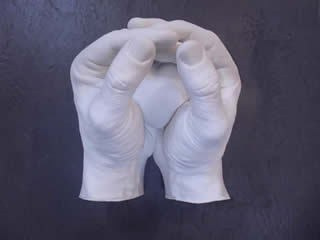 Gift Certificates available in any denomination.
Contact 403-230-3134 Diane@LastingImpression.net
More information on prices?
Email us at:
Please check your junk email folder for replies if you don't get a reply please give me a call as I might not have received your email.
Helping you share your precious castings with your family!
Available for groups of mommies and babies!
403-230-3134
Located in Skyview Ranch Calgary AB
Please call for an appointment.
A Lasting Impression
Baby Impressions
Toddler Impressions
Child Impressions
Adult Impressions
Pet Impressions
Life Casting, LifeCast Statues
Baby Hands and Feet Impressions
Bronzed Impressions
Stone Casting
Plaster Casting
Baby Shoe bronzing
Bronze
baby prints hands and feet Calgary
baby prints hands and feet Calgary
baby prints hands and feet Calgary
baby prints hands and feet Calgary
baby prints hands and feet Calgary
baby prints hands and feet Calgary
baby prints hands and feet Calgary
baby prints hands and feet Calgary
baby prints hands and feet Calgary
baby prints hands and feet Calgary
baby prints hands and feet Calgary
baby prints hands and feet Calgary
baby prints hands and feet Calgary
baby prints hands and feet Calgary
baby hands and feet Calgary
baby hands and feet Calgary
baby hands and feet Calgary
baby hands and feet Calgary
baby hands and feet Calgary
baby hands and feet Calgary
baby hands and feet Calgary
baby hands and feet Calgary
baby hands and feet Calgary
baby hands and feet Calgary
baby hands and feet Calgary
baby hands and feet Calgary
baby hands and feet Calgary
baby hands and feet Calgary
Calgary