Being an Artist, painting with different mediums for many years has given me the capability to create great finishes on all of my castings.
Some of my finishes take quite a bit of time to achieve.
All finishes can be applied to Hands, Feet, Faces and Body Castings
My blended antique finishes can take up to 2 hours over a 2 day process.
I love the end result, and so do my clients.
Having the little creases and wrinkles stand out by an antiquing effect really make them extra special.
Antique Silver, Antique Bronze, Antique Copper, Antique Gold or Pewter.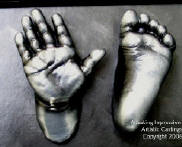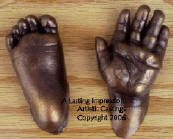 Shiny Silver, Shiny Gold, Shiny White Gold, Shiny Copper and Chrome,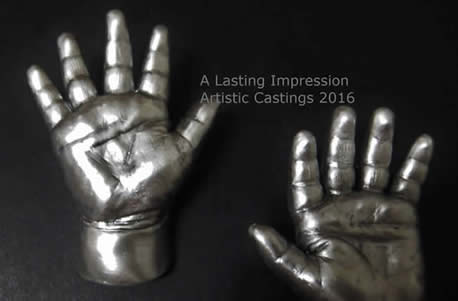 Other finishes include Bronze, gun metal, gold, pewter, copper, chrome and pearl.
The price depends on the type of casting you pick, the finish, and the size of the castings.
Special finishes per hand or foot start at $5 up to $25 each.
White pearl or white shimmer finish is included in pricing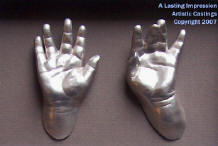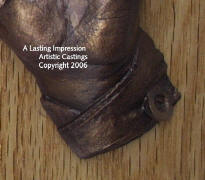 Antique Bronze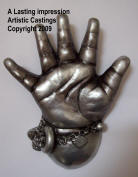 1224 Oct10/11
1224 Oct
A Lasting Impression
Baby Impressions
Toddler Impressions
Child Impressions
Adult Impressions
Pet Impressions
Life Casting, LifeCast Statues
Baby Hands and Feet Impressions
Bronzed Impressions
Stone Casting
Plaster Casting
Baby Shoe bronzing
Bronze
Calgary